When viewed from the outside, this home presents itself as a play of the marginally overlapping horizontal planes of the facade. These planes strategically conceal the open terraces that border the facade, considering the house is sitting at the intersection of two busy roads. Both the open terraces — the one connecting the living area to the top floor, and the other at the confluence of all the bedrooms, receive uninterrupted natural light.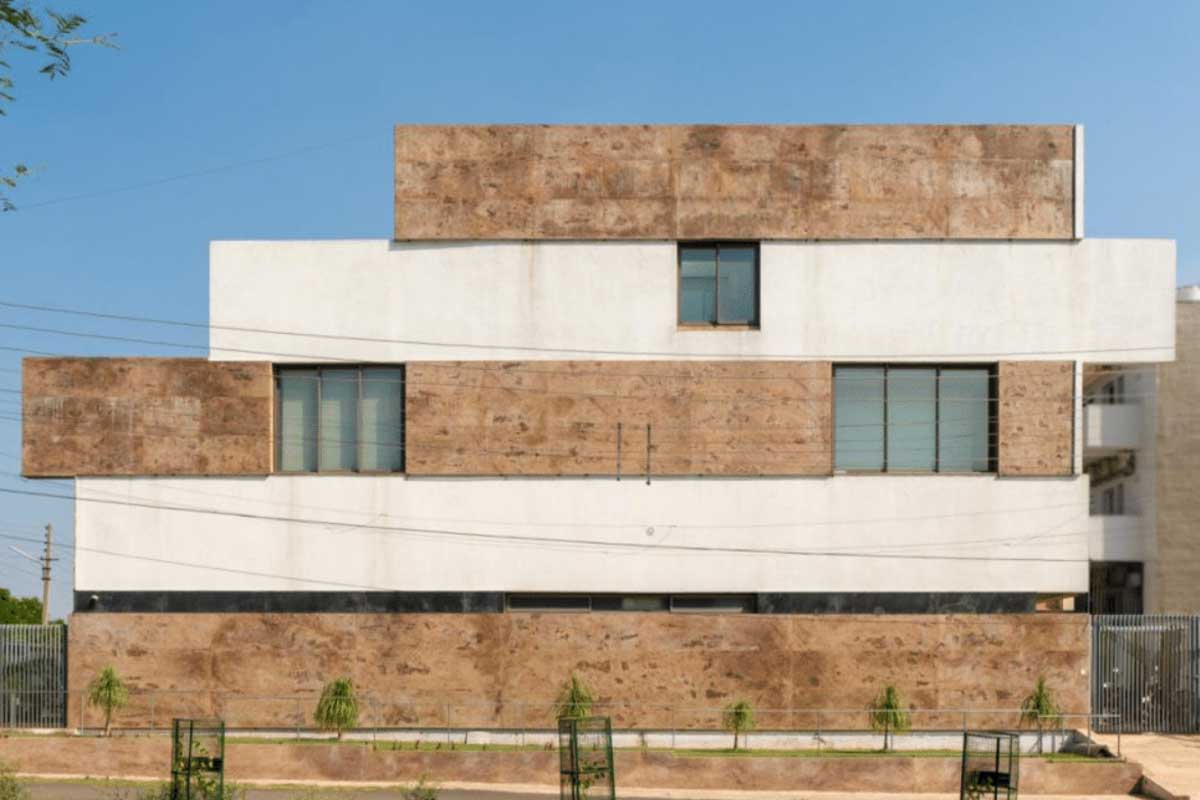 The residence is functionally divided into three blocks that are stacked one above the other. In the absence of any vertical intervention and the superimposing planes running across, the home's exterior gets defined by its pronounced horizontal elements. This compartmentalisation, created to accommodate the privacy requirements for both — the primary occupant and the tenants — is not designed to be isolating. These blocks are connected through the central courtyard, and the sound of the running water on the Sivakasi stone surfaces ties the spaces together. All the rooms on the upper level receive natural light through the terrace that opens itself up to the sky. The occupants on the ground floor receive natural light from the two open facades but do not have to compromise on the privacy factor. This is due to the anamorphic screens that appear to enclose the periphery but are just strategically distanced fins. The dancing human motifs on these fins cast varying shadows in the interior spaces in a subtle but ever - changing dynamism. This makes for an interesting istinction when positioned as one of many houses on the street. A pivotal concern around which this house is ideated is its interaction with nature such that it opposes over - the - top, purely aesthetic interventions. The design scheme is structured around the sound of water and the warmth of natural light, and the tranquility manifested by these natural elements.
Architecture could be best defined as the zeitgeist of the world gone by and also the present. Architects must incorporate these qualities within the spaces they design, so as to create a haven with characteristics that the outside world may not off er. In a fairly disconnected world, Residence 414 is actively seeking and enabling active interaction with elements of nature. With this house , the overly simple convention of incorporating green elements into the space to attain tranquility is being relooked at. The true essence of tranquil living here is brought about through the conscious and holistic interaction of the spaces with elements of nature.